News Coverage
Latest news from Gross National Happiness USA, the broader GNH movement, and essays about growing personal and collective happiness.
Content is provided by a variety of contributors and partners.
View All News and posts or click on the following news topics to access select blogs and articles.
GNHUSA related blog posts and essays from diverse contributors

Thoughtful explorations of gross national happiness issues and questions, including the interplay between community and individual well being.
GNHUSA produced news and announcements

Independent multi-media coverage of our work

Happiness Walk reports
Gross National Happiness (GNH) Movement – relevant research, opinion pieces and activities

News from our partners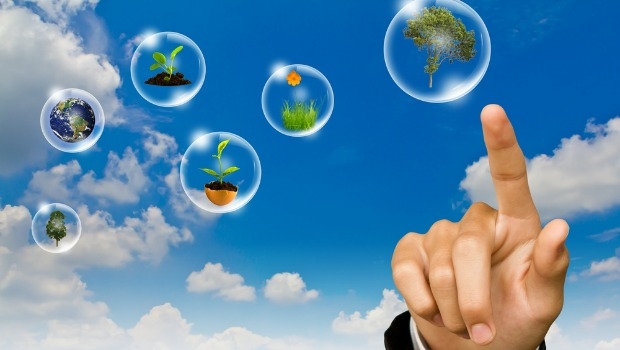 B Corps are changing the way we do business and our world
B Corps are changing the way we do business. Do you know the saying "You must be the change you wish to see in the world"? Well, a growing number of businesses, B Corps, are doing just that. Business as a force for good Businesses have a tremendous impact on our lives, as owners, employees, consumers and...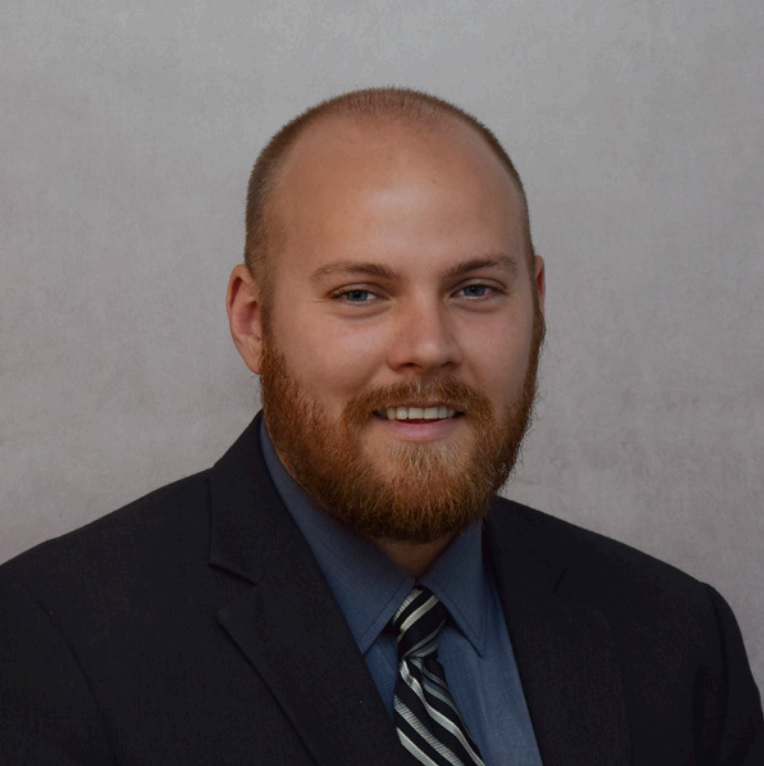 Rob Moore joins GNHUSA's board
GNHUSA is excited to share that Rob Moore is our newest board member. Rob is a policy analyst based in Columbus, Ohio. He is passionate about helping state policymakers make better decisions by providing them with rigorous analysis that measures progress and success using a variety of methodological tools. Rob has worked as an...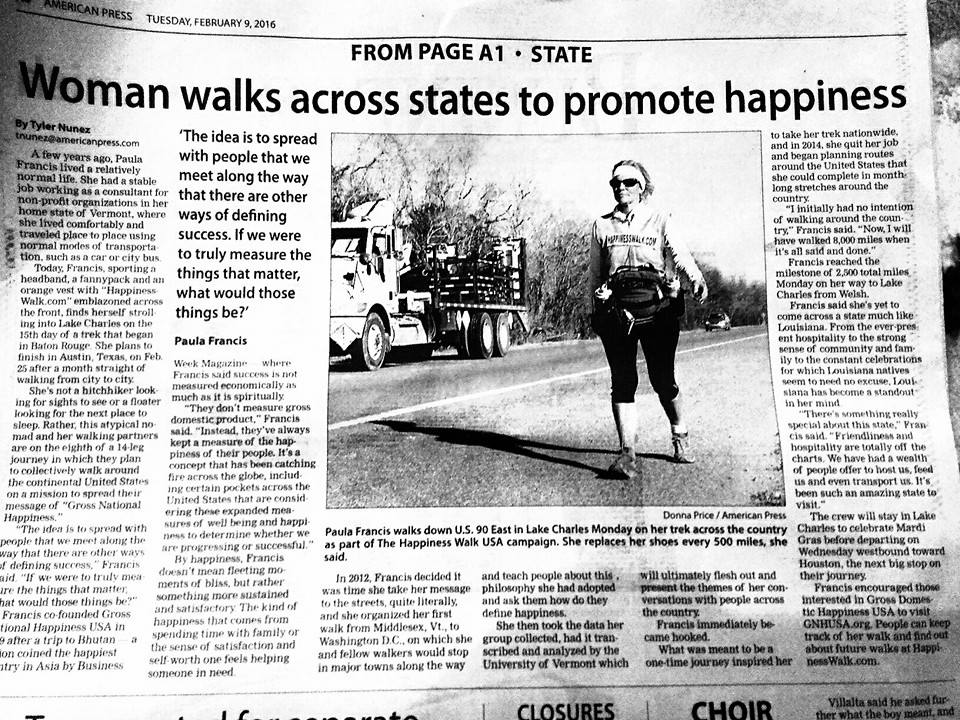 The Happiness Walk Makes Local Headlines
One of the goals of GNHUSA's Happiness Walk is generating news coverage of not only the Walk but also of our broader organizational goals in towns and cities all along our route.  While we've learned that many individuals walk the United States for a wide variety of causes, editors and producers are often intrigued...
Breaking News: Results Are In for 2017 Vermont Happiness Study!
Results from the 2017 Vermont Happiness study are in, and 78% of Vermonters say they're happy.  This study, a unique collaboration between Gross National Happiness USA, the Happiness Alliance, the Vermont State Data Center and the Center for Rural Studies, explores Vermonters' dispositions across 11 life domains including social connectedness, physical health, material well-being and more.  The intent is to provide Vermonters with holistic...
What are you serving on the International Day of Happiness?
Celebrate the International Day of Happiness by hosting your own Happiness Dinner. Are you ready to get your happy on during dinner? Spread happiness to those you care about and join the world in celebrating the International Day of Happiness on March 20th. There is no better way then to host a happiness dinner for family...

The Pursuit of Happiness
          The Pursuit of Happiness Taking a cue from a small Buddhist kingdm, Tom Barefoot, A68, urges governments to rethink how they measure progress.   By Michael Blanding, illustration by Gaby D'Allessandro "Quick, what makes you happy? If you said economic growth, you are in the minority. When most of us think about...
Measuring What Makes Life Worthwhile
The Daily Good recently reminded us of hotelier Chip Conley's inspirational TED talk on measuring what matters. Here's a taste of Conley's wisdom: "I'm going to talk about the simple truth in leadership in the 21st century. In the 21st century, we need to actually look at -- and what I'm actually going to encourage you to consider...
Exciting News from New Zealand: Plans to Use Well-being Measures!
New Zealand Prime Minister Jacinda Ardern. We were so excited to read about New Zealand Prime Minister Jacinda Ardern's February 1st speech, in which she announced ground-breaking plans for her country to measure its success holistically, using a tool and framework her Finance Minister Grant Robertson is calling, "the well-being budget." In...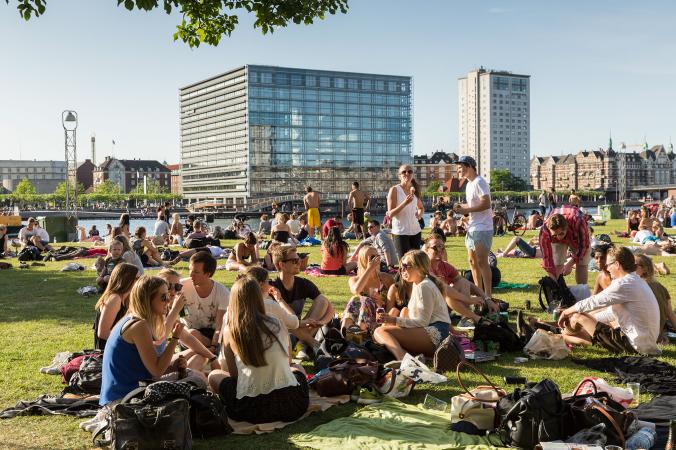 National Geographic: Visit the Top 10 Happiest Countries in the World
By Angie McPherson Looking for a travel destination with great views and friendly people? Try following a cue from the 2016 World Happiness Report. Every year the United Nations measures the quality of life for citizens around the world through surveys and data analysis. The same 13 countries have dominated the top of the list since...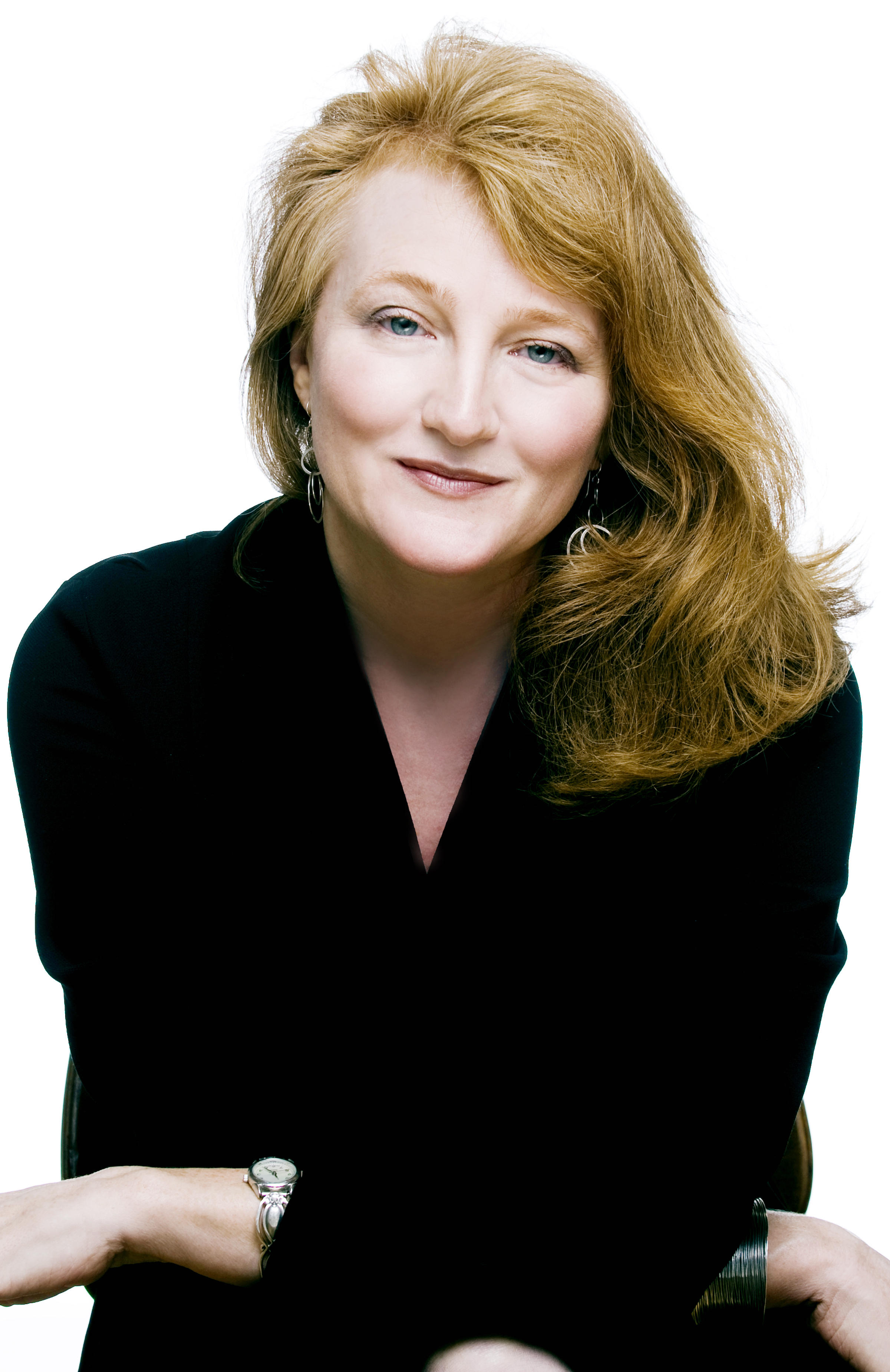 From Krista Tippett: Wisdom on Changing What We Measure
Krista Tippett is a Peabody Award-winning broadcaster and National Humanities Medalist. She is best known for her national public radio program and podcast, On Being. Though Krista Tippett never uses the words "alternative indicators" or "gross national happiness" in her beautiful new book Becoming Wise, there is a passage that goes profoundly...
Animal and Human Wellbeing Are Deeply Interconnected
It's not just we humans—animals planet-wide also need a GNH paradigm to protect their well being, or even, in some cases, their very existence as a species. Human and animal happiness are so deeply interconnected that it's in our own species' best interest to protect them from the ravages of a GDP-only mindset and policy...
The Happiness Walk Hits Mile 3,500!
Thumbs up with GNHUSA treasure, co-founder, and chief walker, Paula Francis! 3,500 Miles and Counting After a summer hiatus, the Happiness Walk - Leg 10 resumed in Santa Fe, NM on September 9th with the goal of reaching Santa Monica, CA by December 3rd. In Albuquerque, the Walk celebrated one full year...
The Happiness Walk Kicks Off The Second Half With Compassion!
Some of the creatures the Happiness Walk has met on the California coast. On October 4th, lead Happiness Walker Paula Francis was thrilled to walk for the 4th time with veteran Ernest Andrus who, at age 93, finished a run across the country.  Three days later, she had the honor of...
GNHUSA Appoints Two Powerful Women to Our Advisory Board
Laura Musikanski As current president of GNHUSA, I am pleased and grateful to announce that both Laura Musikanski, executive director of the Happiness Alliance (happycounts.org) and Sharon Parker, who recently retired as the Assistant Chancellor for Equity and Diversity at the University of Washington Tacoma, have agreed to serve on the GNHUSA Advisory...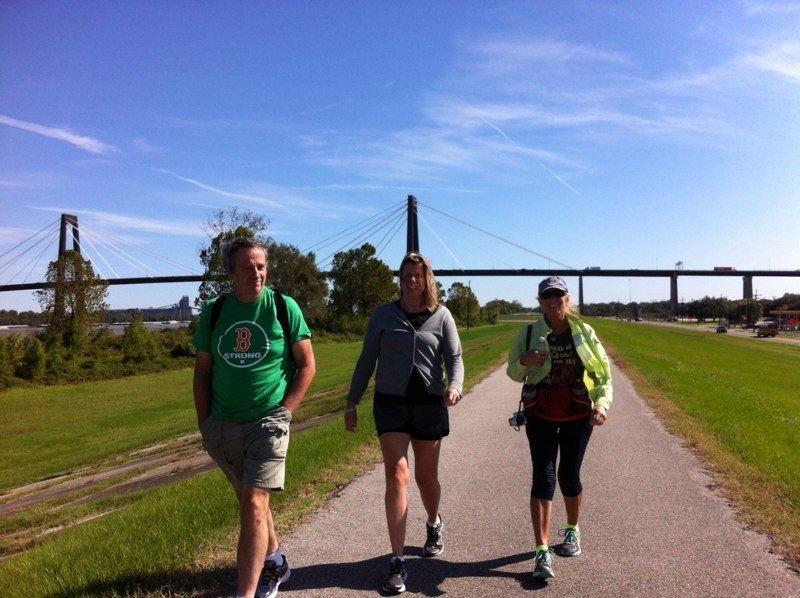 Seven Minutes on the Happiness Walk: Video
What is it really like on The Happiness Walk?  Every day is different, and the same -- the scenery may change, but the people are beautiful, kind, loving, and knowledgeable about happiness wherever we go.  You can take seven minutes and join us now, with a video report from North Carolina to Georgia.

Generosity = Happiness
The world happiness report takes into account a lot of different aspects of each country when deciding which country has the happiest people. For the past three years, Finland has been at the top of world happiness. Supposedly, the Finish people are the happiest people in the world, not only are the Finish people...
George H. Lewis joins GNHUSA's advisory board
We are pleased to share that George H. Lewis has joined GNHUSA's advisor board.  George is a world-renowned artist and a global GNH Ambassador. George is regarded as one of the great philosopher polymaths of the modern era as expressed through his art and various mediums including paintings, portraits, photography, sculpture, music, lectures and public...
The Science of Happiness Walking
The view greeting chief Happiness Walker Paula Francis on the Happiness Walk in April 2018. When the residents of Portland, Oregon or Olympia, Washington or any of the other cities on Leg 13 of the Happiness Walk see Paula Francis and other walkers in their neon "Serious About Happiness" vests, they...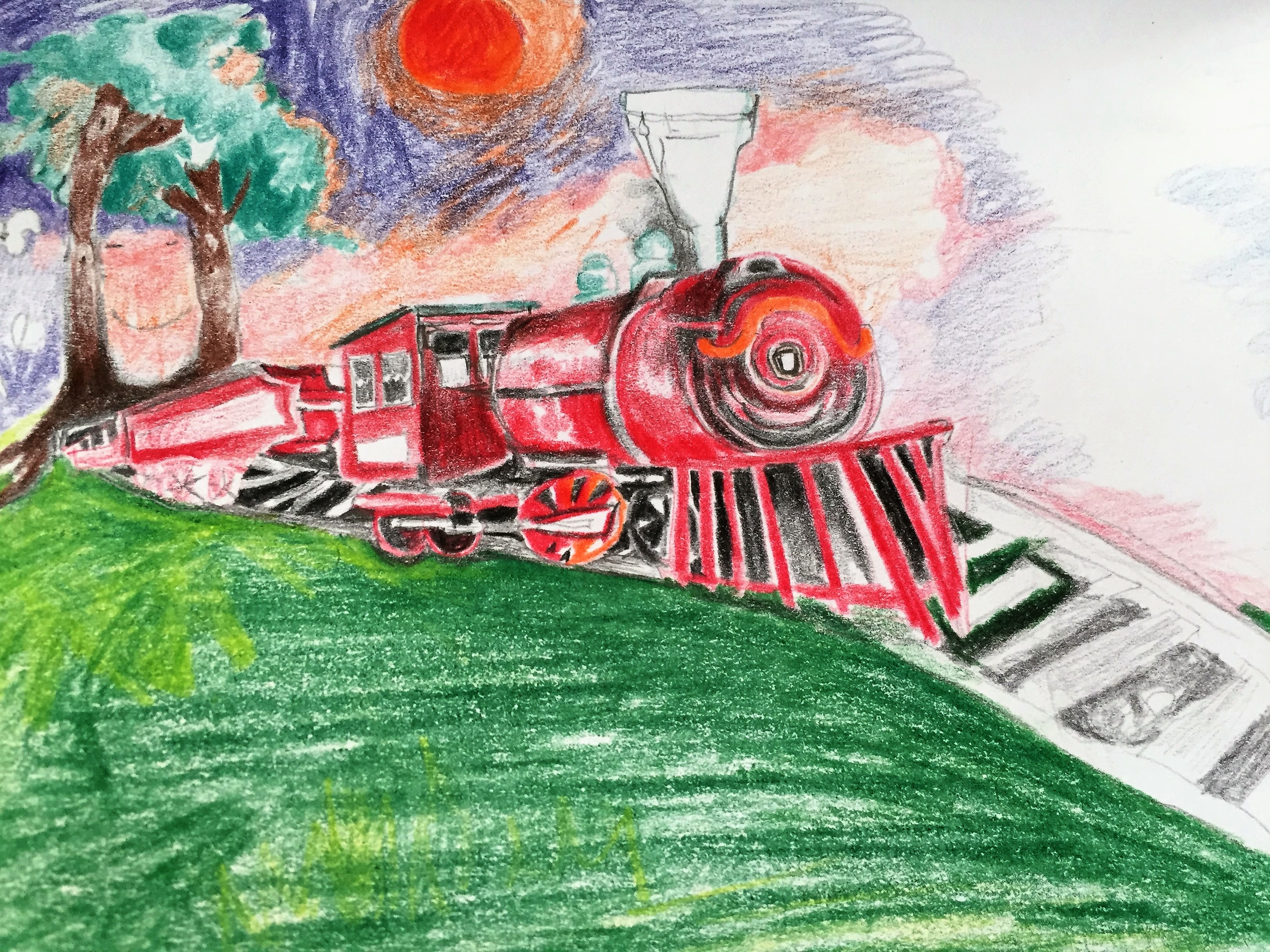 Climb on Board the Happiness Train!
By Kelly Isabelle A happiness-bound freight train is coming!  Hear the hum?  Feel the vibration?  Pack your bags and prepare to jump on board!   Tired of the status quo in our country?  Here is something you can do about it!  Be a part of a growing movement to shift our national marker of success from "product" to "pleasure."  I mean pleasure...
The Divine in the Data
If you are reading this, it is likely you are one of the thousands of people I've met walking around the country or perhaps you have rooted for me from the sidelines. Some of you have generously opened your homes to me, a few of you have selflessly walked by my side, and many...
The Unifying Power of Happiness Dinners
There's a reason a picture of my granddaughter illustrates what is essentially an extended invitation to you -- yes, you, the person reading this right now -- to celebrate the 5th annual International Day of Happiness (IDOH) by hosting a Happiness Dinner.  The photo's relevance will soon be clear. First, though, I want you to know...
World Happiness Summit - Miami 2017 March 17-19
The organizers of the World Happiness Summit urge us to:  "OPEN YOUR MIND… To a unique, mindful 3-day summit in Miami, the "capital of happiness" to explore the 6 key elements of wellbeing and the unrelenting pursuit of happiness. The Summit features 50+ speakers including the world's leading experts in the science of happiness, activists, philosophers, psychologists,...
Happiness Walk and research project resumes in California starting Oct.7th - Press Release
Building Evidence for a Practical, Sustainable, and Happier Future, the 8,000 mile Happiness Walk and research project resumes October 7th in Santa Monica, CA. Los Angeles, CA, October 2, 2017 In this time of apparent divisiveness, imagine a nationwide enterprise that identifies our common values—a hands-on research project that engages thousands of people across all...
The Happiness Walk Hits the Halfway Point!
On October 23, 2016, lead Happiness Walker Paula Francis together with friends Brianna, Kaili, and her cycling companion Nic celebrated the Walk's 4,000th mile -- halfway to the final goal of 8,000 in late summer 2018.  Mile 4,000 happened in Phoenix, Arizona -- a long, long way from the Walk's starting point in 2012...
How Well Does A GDP Approach to Measuring Personal Happiness Work?
One way that people can better understand the limited utility of measuring societal success using only GDP-type results (i.e., money and material wealth) is to ask the same question regarding our personal lives. Does trying to live up to a GDP standard make us happier, less happy, or neither? That's essentially the question Greater Good Magazine reporter...
GNH special guest talk by George Lewis - January 18th
Gross National Happiness Perspectives. Learn how GNH is developing locally and globally with George Lewis and GNHUSA board members. Thursday January 18th 6-7:30pm Kellogg-Hubbard Library - East Montpelier Room 135 Main St., Montpelier, VT 05602 Hear a Global Perspective from special guest, George H. Lewis GNH - A vehicle to a new paradigm George H. Lewis is an internationally acclaimed...
Listen to the Happiness Walkers on Santa Fe's Radio Cafe
Happiness Walkers and GNHUSA co-founders Ginny Sassaman and Paula Francis outside the Santa Fe "Radio Cafe" studio. When the Happiness Walk was in Santa Fe for the last miles of Leg 9  -- from Baton Rouge, Louisiana to New Mexico -- we had the great fortune of being interviewed by local...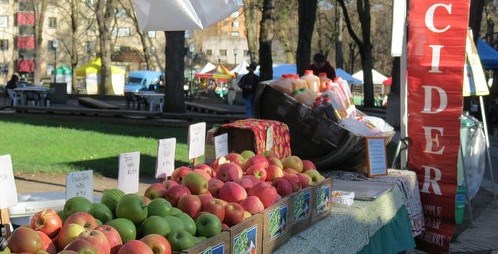 GNHUSA to Present at Economics of Happiness Conference
We are so pleased to announce that GNHUSA will be participating in the upcoming "Localize It: What Resilience Looks Like" conference  in Royalton, Vermont at the Vermont Law School. The conference, one of four in the U.S. to be sponsored by Local Futures/Economics of Happiness this October, will take place October 21st and 22nd. It...
New Insight on Measuring What Matters
Even for those of us involved in the Gross National Happiness movement, it can sometimes be challenging to get excited about the phrase, "measuring what matters." It seems so dry, so lacking in passion -- yet it is critically important to our personal and collective well-being.  We simply must see beyond the data to...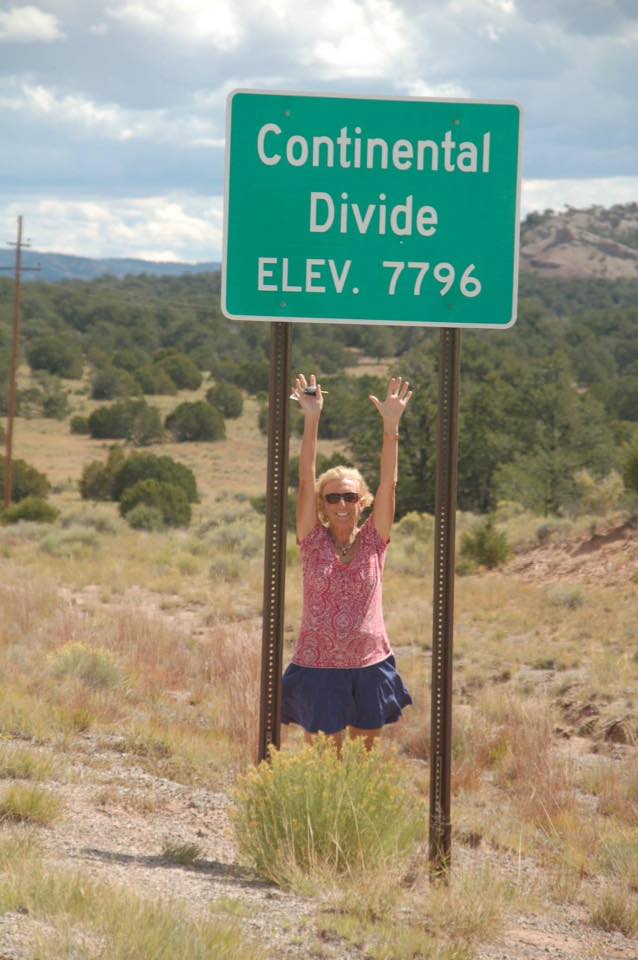 Becoming a Happiness Walker, and Loving It!
Suzanne conducting a "what matters most" interview on the road in New Mexico. By Suzanne Ganzak Carnill After meeting Happiness Walker Paula Francis on my home turf in Florida in 2015, I was determined to join her on the Walk.  My goal was September 2016 in New Mexico.   But how to prepare? I...
CONTENT IDEAS:
To submit news material for consideration, please contact us.
DISCLAIMER:
GNHUSA is grateful to our blog contributors. Each essay represents the writer's individual perspective, which GNHUSA may or may not endorse.