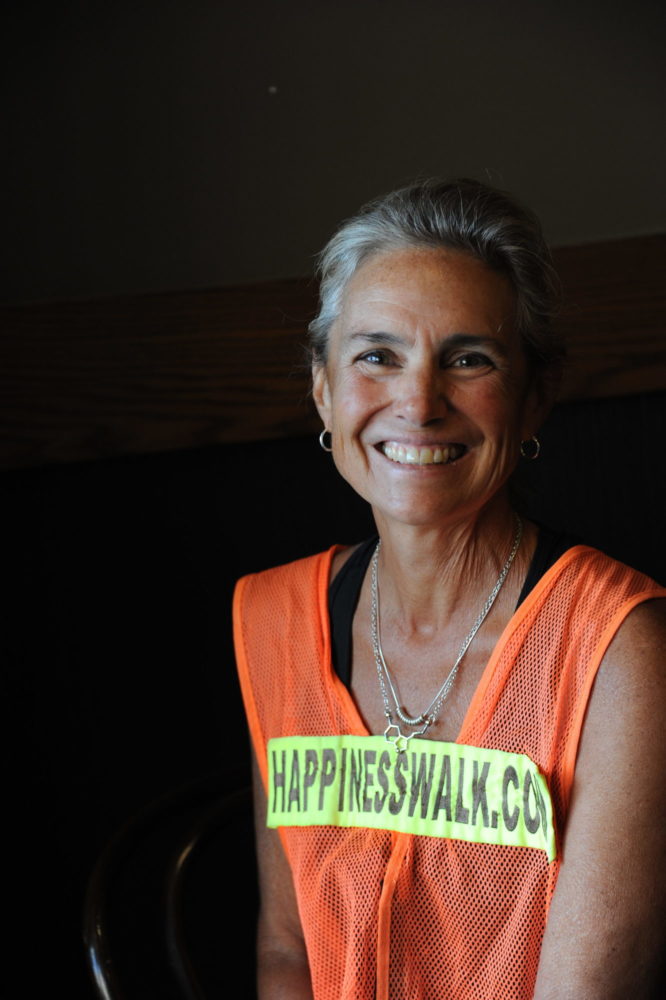 Crossing a big country with walking shoes and a recorder, Paula Francis researched and reported on happiness by interviewing thousands of people during the 10,000 mile Happiness Walk.
She tapped into the innate wisdom of those she met on the road to ultimately align policies of our systems, institutions, and government with a newly defined set of values. "We ought to uphold our basic right – and that of future generations – to the pursuit of happiness. When our measures of progress and success are not aligned with our values, individuals, our humanity, and the planet suffer," said Paula.
Read here: Happiness Walk Report
Happiness Walk US Completed in Boston
November 3, 2019 – Paula Francis has walked the east coast from Vermont to Jacksonville, Florida, along the southern border to Los Angeles, California with a Happiness Walk stop in Hawaii, up the west coast to Seattle, Washington, and full-circle back east finishing in Boston, MA on November 2, 2019.
All totaled, Paula walked through 32 states plus Washington DC and even into Montreal, Canada. It is estimated one interview was conducted for every five-miles-walked but a full analysis will reveal the statistics more accurately. As many as 96 walkers and one cyclists joined her over the seven years, she was hosted by 222 host families, and was the beneficiary of countless acts of kindness.
A Final Walk Back to Vermont – In Silence
November 20, 2019 – note from Paula: Though conscientious to assure interviews reflected the great diversity of people within the US, even with my best efforts, there remained people whose voices were underrepresented in this research project. They included those who are systemically unheard, disenfranchised, disregarded, hidden, or silenced. And while earnest attempts were made to speak with people in a variety of settings, interviews did not adequately represent people who were institutionalized nor those with whom either my communication skills or route presented challenges.
In recognition of this void, I walked the remaining 139 of this 10,000-mile walk in silence. Retracing steps from the 2012 inaugural walk, I started on November 12th at the MA-VT border on route 5 and continued north on route 14 into Montpelier, VT where the idea of GNHUSA was birthed. Much gratitude to those who observed these final days with me and to all those who contributed to the Happiness Walk project over the last several years: all hosts, walkers, donors, and the many individuals who assisted with challenging logistics. Most especially, I thank the thousands of interviewees who graciously shared their personal perspectives and whose stories will help create a forward path for measuring what matters most in the United States. Much Gratitude!
Happiness Walk and Research Project Stats
Discoveries
The Happiness Walk has discovered that, contrary to what we may hear in traditional media, we are mostly very much alike – we value the same things!
And…
*  People have deep wisdom to share,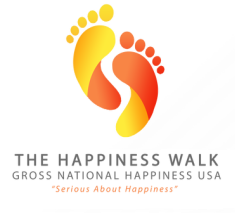 *  Most of us have a unifying vision,
*  Listening is as important as the answers, and
*  Most agree we can do better to support what we value.
We have analyzed thousands of these interviews from people all across the country to uncover our core common values. View the report here.
Happiness Walk Video Highlights
Your support was much appreciated and went a long way towards expediting the analysis of the thousands of interviews! The voice of every interviewee matters … and yours does too! Don't forget to take the Happiness Alliance Survey.
Follow the Happiness Walk: