The 10,000-mile question: What matters most in life?
Crossing a big country with walking shoes and a recorder, Paula Francis is researching and reporting on happiness by interviewing thousands of people during the 10,000 mile Happiness Walk.
She walks to tap the innate wisdom of those she meets 'on the road' and to ultimately align policies of our systems, institutions and our government with a newly defined set of values. "We ought to uphold our basic right – and that of future generations – to the pursuit of happiness. When our measures of progress and success are not aligned with our values, individuals, our humanity, and the planet suffer," she says.
The Walk Heads Back East on it's Final Leg
April 2019 – Paula Francis has walked the east coast from Vermont to Jacksonville, Florida, along the southern border to Los Angeles, California, up the west coast to Seattle, Washington, and as far east as Salt Lake City, Utah with a Happiness Walk stop in Hawaii. Resuming in mid May (weather permitting), the last legs will take the Walk back east to New England in the Fall of 2019: going full circle. 
Happiness Walk and Research Project Stats (as of 9/20/19)
Discoveries
The Happiness Walk has discovered that, contrary to what we may hear in traditional media, we are mostly very much alike – we value the same things!
And…
👣  People have deep wisdom to share,

👣  Most of us have a unifying vision,
👣  Listening is as important as the answers, and
👣  Most agree we can do better to support what we value.
Stay tuned in as we are currently analyzing thousands of these interviews from people all across the country to uncover our core common values.
Happiness Walk Route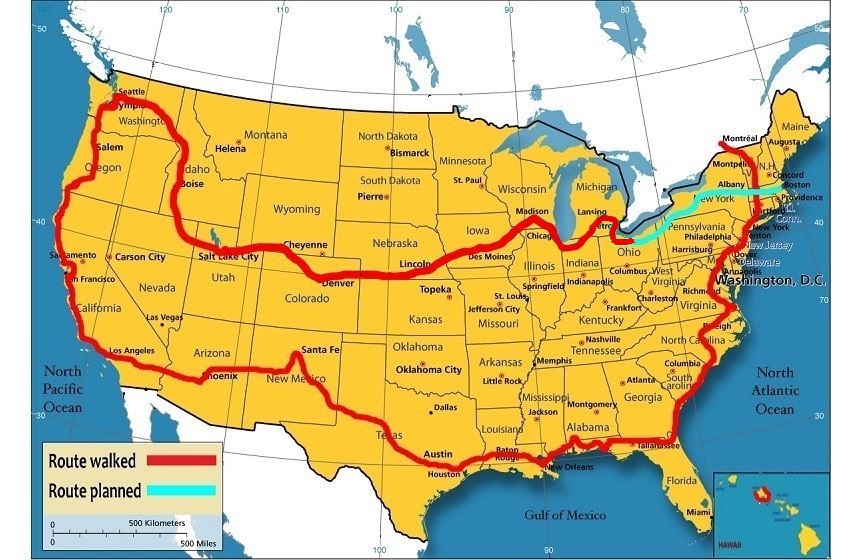 Happiness Walk Video Highlights
Your support is much appreciated and will go a long way!
News from the Happiness Walk
Follow the Happiness Walk: