Join the final steps of the 10,000 mile Happiness Walk in Boston – Nov. 2nd
Join Paula Francis and GNHUSA in person as the Happiness Walk concludes.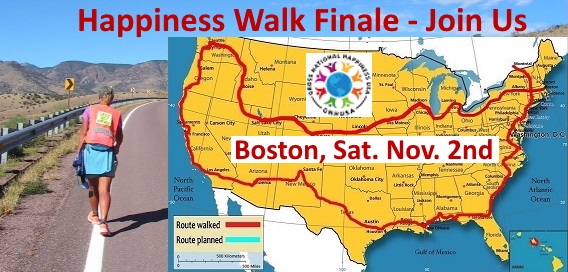 The 10,000 mile Happiness Walk, a 7-year project of Gross National Happiness USA, will conclude in Boston, MA at 2pm on Saturday November 2nd, located in the Free Speech Area of the historic Boston Common. There are also 2 walking options for anyone that wants to be part of the last couple of miles and cheer Paula on. All are invited to participate and celebrate.
Join us for any or all of the following:
12:30pm – Last 3.5 miles beginning at Fenway Park at 12:30 (corner of Lansdowne St and Brookline Ave).

1:30pm – Last final mile at Faneuil Hall's entrance and will continue along the Freedom Trail, passing several significant landmarks.

2:00pm – Meet us in Boston Common (Liberty Mall area, Free Speech section, which is on the corner of Beacon and Park St) as the walk concludes, for a few words from Paula, lots of hugs, and the removal of her backpack!
View our press release to learn more about the full project. Come help us celebrate the end of this incredible journey. Several of us will be walking to a venue close by for more camaraderie. Please consider staying for that as well.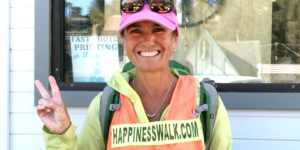 GNHUSA wishes to thank EVERYONE who has made this important listening project possible; there are MANY of you! Most importantly, stay tuned for the results of the interview analysis and the happiness policy tools to follow!
---
The final year of the Happiness Walk