"True Well-Being for Animals and People" Presentation by GNHUSA Board Member Beth Allgood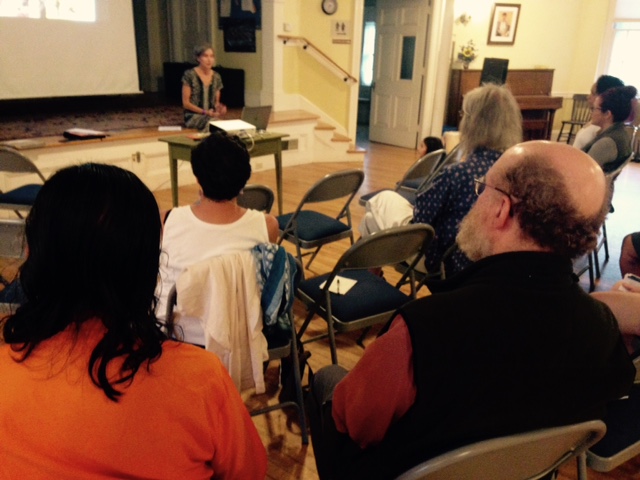 In mid-August, GNHUSA advisory board member Beth Allgood, who is also U.S. Country Director for the International Fund for Animal Welfare (IFAW), shared her ground-breaking research with a group of animal and GNH enthusiasts at a gathering in Montpelier, Vermont.
Beth is one of the co-authors of a report entitled "Measuring What Matters: True Wellbeing for Animals and People" which was released at the Convention on Biological Diversity in Cancun, Mexico in December, 2016. The 36-page report provides specific case studies where the nine domains of Gross National Happiness can concretely demonstrate the connection between human well-being and animals. In the report, Beth wrote, "Measuring success solely through the lens of GDP ultimately does not support animals or people. People benefit when we conserve and protect wildlife and treat companion and agricultural animals humanely. Understanding this, we can now bring animal welfare and conservation into social, environmental, and economic policies."
In Montpelier, Beth began with elephants, noting that more than one elephant is being killed by ivory poachers every 30 minutes — alarmingly, a number that is higher than the elephants' birth rate. Allgood acknowledges that this crisis has some GDP-type impact, on ecotourism, for example — but notes that if we lost elephants, we would truly lose more than money can measure. And, critically, Allgood observed, "I believe our system has helped fuel ivory poaching – making ivory worth more than elephants, and the same with rhino horn, tiger pelts, etc."
Allgood also shared three case studies of animal-human conflict that were well resolved for the people and the animals, thanks to holistic measures which respect the well-being of all involved: stray dogs in Bosnia, the gentle and spiritually important whale sharks off the coast of India; and a multi-faceted animal-human conflict in impoverished Malawi.
Beth shared a lot of statistics on that summer night in August, but two of the most amazing numbers came from a poll IFAW recently commissioned in the United States: 90% of poll participants felt that being around pets contributed to an individual's happiness, and 85% said that the ability to view wildlife in their native habitat contributed to an individual's happiness.
GNHUSA believes that happiness can provide a unifying path forward for all Americans; IFAW's statistics on our shared emotional investment in animal welfare is a dramatic demonstration of how happiness can unite us.
Beth stressed that animal extinction is a systemic problem that calls for a dramatic change in our economic and political structures. "When I first heard of Gross National Happiness," she says, "it hit me like lightning … the extinction crisis adds urgency to broaden ways we measure now, before these wild animals and habitats are gone."
In closing, Beth urged everyone to get involved, sign the Charter for Happiness, volunteer with GNHUSA; help spread the word, etc. To join in the movement for animal and human well-being, download a copy of the full report at http://www.ifaw.org/united-states—then perhaps you too will want to become more actively involved in GNHUSA!