What are you serving on the International Day of Happiness?
Celebrate the International Day of Happiness by hosting your own Happiness Dinner.
Are you ready to get your happy on during dinner?
Spread happiness to those you care about and join the world in celebrating the International Day of Happiness on March 20th. There is no better way then to host a happiness dinner for family and friends. Discussing what matters most to you over a delicious meal increases everyone's happiness and wellbeing.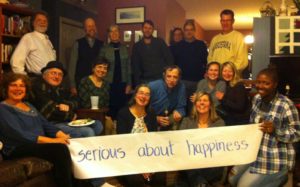 Ingredient list for a Happiness Dinner:
Register to host a Worldwide Happiness Dinner on or around International Day of Happiness, March 20th.
Invite friends and/or family to your meal.
On the day of your event, you prepare a meal, get take-out, go out, pot-luck – whatever works for you.
You and your guests set aside some time during the evening to have a conversation about what matters, using our guidelines.
Your group submits a photo and some conversation points to us via email for sharing.